Sophie Hooper
RVN
Sophie qualified as an RVN in 2016 and joined Special Friends in March 2018 from a small animal practice in Kidderminster. She has a degree in Philosophy with media, and is currently studying for her Advanced Veterinary Nursing Diploma at Harper Adams University. Sophie is crazy about animals and has many herself – 2 degus, 4 rabbits, 3 cats, and 2 very handsome bullmastiffs called Wilson and Barkley! When she isn't looking after her ...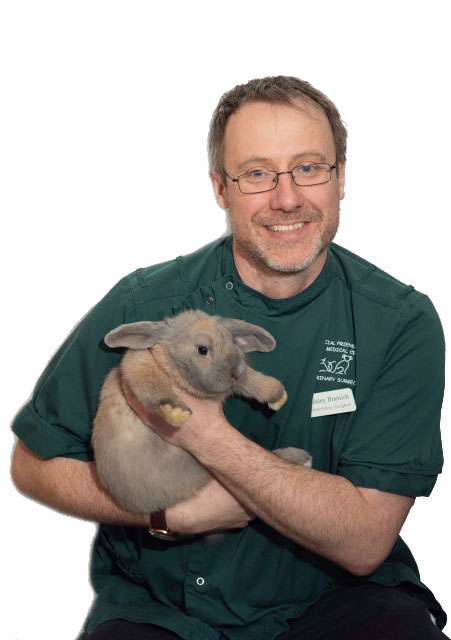 Ashley Bramich
MAVetMB MRCVS
Ashley qualified from Cambridge in 2000 and after a brief foray into equine practice in Australia and mixed animal practice in Nottinghamshire decided that small animals were his destiny! He has worked in and around the Midlands for the past decade, most recently in Solihull, before joining Special Friends in 2017. Father of 2 young children Ashlet struggles to find time for activities outside of work that do not involve them, but ...

Tim Land
BVM&S MRCVS
Tim qualified from the The Royal (Dick) Veterinary College, Edinburgh in 1998 and worked in several mixed animal practices in the Worcestershire area before joining Special Friends in 2005. Together with his wife Ceri, they are owned by 1 dog called Maggie, Stanley the cat and 2 children. When he is allowed to leave the practice, he enjoys playing guitar and keyboards in a local covers band.

Frances Singh
ANA
Fran joined the team at Special Friends in 2009, and qualified as an Animal Nursing Assistant in 2010. She combines working on reception with assisting the Vets and Nurses. Since she has been working here, her menagerie at home has increased to 1 cat, 1 rabbit, 1 hamster and 8 chickens who all work hard to provide the staff with a generous amount of multi-coloured eggs!

Dawn Evans
RVN BVNA
Dawn joined the team at Special Friends in 2005 following a career break to bring up her children. Married to Steve and with two sons, Dawn qualified way back in 1980 as an original RANA. Her spare time is spent looking after husband, sons, her border collie cross 'Tilda , Freddie the cat and Elvis the rabbit.

Naomi Killingsworth
RVN
Naomi qualified as a Registered Veterinary Nurse in 2008 and joined Special Friends in 2010 having spent several years working as a nurse for the RSPCA. In her spare time she has hand-reared and fostered over 300 kittens - and kept 6 for herself! Outside of work Naomi enjoys fitness training, hiking with her husband and can often be seen hanging upside down at her local rock climbing centre.

Ceri Land
RVN
Ceri qualified in 1999, and worked in the Gloucestershire and Worcestershire areas before joining Special Friends in 2001. Married to Tim and with two small children she says she has no time for any extra mural activities that do not involve swimming (with the children) dancing, (with the children) cookery (with the children) and sometimes she can be found playing (with the children)!

Morwenna Taylor
BVSc MRCVS
Morwenna qualified from Liverpool University in 2010. She worked in a small animal practice in the West Midlands until joining Special Friends in 2015. A native of Cornwall, Morwenna has two cats and a dog named Stanley. Morwenna spends her spare time with her husband and visits home to Cornwall to enjoy the beaches.

Siân Burwood
MAVetMB MRCVS
Siȃn qualified from Cambridge Vet School in 2011 and has been working in small animal practice in Worcestershire ever since, starting in Bromsgrove and Kidderminster before coming to Redditch to join Special Friends in 2017. Siȃn loves being a GP vet with all its variety; fundamentally all our patients are family pets and keeping them happy and healthy is why she went to vet school. Outside of the practice Siȃn is a keen dressmaker and yoga enthu ...